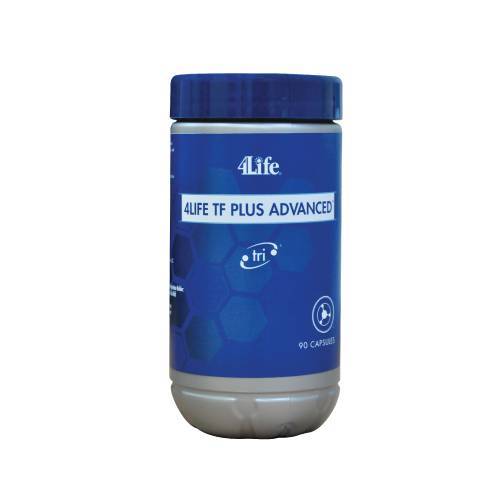 4Life Transfer Factor Plus Advanced
PRODUCT INFO
"Memberi Kesejahteraan Galakan Tambahan"
4Life Transfer Factor Plus merupakan tahap produk kesihatan yang paling tertinggi dari syarikat 4Life untuk sokongan kesihatan kepada tubuh badan anda. Transfer Factor Plus mempunyai gabungan Cordyvant, dan mempunyai proprietari seperti Maitake dan cendawan Shiitake, Cordyceps, Beta glucans, Beta sitosterol, dan Pati daun zaitun.

Dengan gabungan kandungan didalam botol ini, Transfer Factor Plus dapat menyokong kesihatan anda jauh lebih kuat dari produk-produk kesihatan yang lain.
1 Botol x TF Plus Advanced (90 Kapsul)
Harga Ahli : RM 251.00 ( Includes GST SIGN UP & Get 6% Credits Rebates! )
Harga Bukan Ahli : RM 300.20 ( Harga Pasaran )
FEATURES
Manfaat Utama dan Kebaikan 4Life TF Plus :

• Menggalakkan kesihatan umum dengan menyokong keperluan tubuh anda
• Mengandungi 4Life Transfer Factor™ dan bahanbahan tambahan untuk keseimbangan dan sokongan kesejahteraan.
• Termasuk Cordyvant™, campuran proprietari bahan-bahan seperti cendawan maitake, cendawan shiitake, cordyceps, bayam, mannans, ekstrak daun zaitun dan yis baker.
• Kapsul sayuran digunakan.
• Sijil Halal diperakui oleh IFANCA.
Kelebihan Transfer Factor Plus :

• 100% tiada kesan sampingan
• JIMAT kerana sesuai untuk penjagaan kesihatan keseluruhan badan.
• 100% asli dan selamat
• Bebas toksid!.

Apa Yang Membuat Produk Ini Unik?

• Transfer Factor adalah molekul utusan kecil yang memindahkan maklumat tindak balas secara semula jadi daripada satu entiti kepada yang lain, seperti di antara ibu yang menyusukan bayinya sendiri.
DETAILS
Bahan Kandungan / Ingredients:

A concentrate of cow colostrums and egg yolk, Glycine max (seed), Maitake extract (as Grifola frondosa) (fruit), Shiitake extract (as Lentinus edodes) (fruit), Cordyceps sinensis (bark) saccardo (mycelia), oats (as Avena sativa) (seed), Agaricus blazei Murill extract (as Agaricus blazei)(fruit), Baker's yeast (as 1,3 beta glucan Saccharomyces cerevisiae), Olive leaf extract (as Olea europea L.)(Leaf), Aloe extract powder (as Aloe barbadensis)(leaf), Spinach powder concentrate (as Spinacia Oleracea)(fruit), lemon peel powder (Citrus limonum)(peel), vegetable capsule.

Produk Pelengkap :

• 4Life Transfer Factor Advanced Formula
• 4Life Transfer Factor RioVida
Customer comments
| Author/Date | Rating | Comment |
| --- | --- | --- |
---